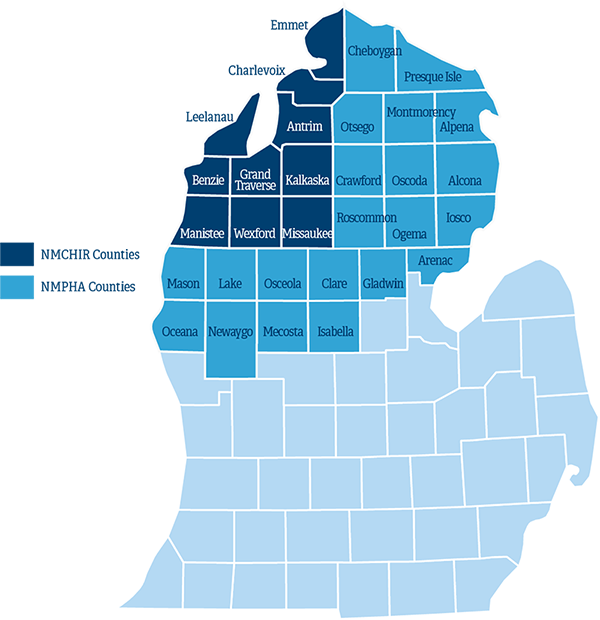 Northern Michigan CHIR
The Northern Michigan Community Health Innovation Region (NMCHIR) is a partnership of health and community providers that serve the health needs of individuals across 10 counties in northwest Michigan: Antrim, Benzie, Charlevoix, Emmet, Grand Traverse, Kalkaska, Leelanau, Manistee, Missaukee, and Wexford.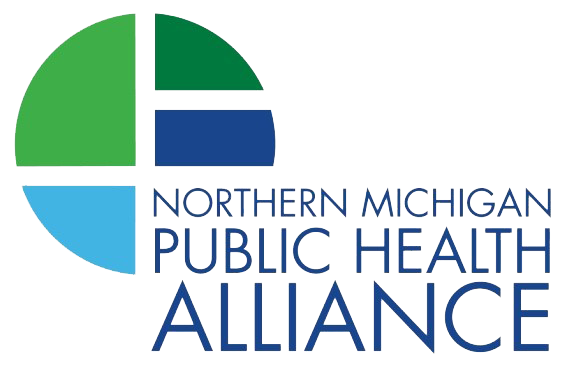 The backbone organization of NMCHIR is the Northern Michigan Public Health Alliance (NMPHA), made up of 7 local health departments covering 31 counties. NMPHA provides leadership and facilitates the development of a common agenda, shared measurement, mutually-reinforcing activities, and continuous communication.
to address social determinants of health
The NMCHIR has engaged health care providers, insurers, community organizations, and local government agencies to come together to identify and implement strategies that address community health priorities. In addition to members of the steering committee, the backbone organization, and work groups, the charts below highlight the breadth of NMCHIRs partnerships.
Simply hover over each color in the pie charts to see partner categories and numbers.

HOW WE GET THINGS DONE
The NMCHIR utilizes two primary work groups in order to carry out its work.
The Clinical Community Linkages work group oversees a screening tool administered at patient-centered medical homes and community services across the region. It identifies individuals' needs for accessing medical care, housing, transportation, healthy food, and other social determinants of health, and then generates a referral to one of three Community Connections HUBs.
The Community Health Assessment and Improvement work group oversees several specialized Action Teams. Four of them focus on the top-ranked barriers to health and quality of life. Additional Action Teams plan and implement initiatives to reduce preventable/avoidable Emergency Department visits and launch Health in All Policies regionally. Plus, the NMCHIR is a member and funding partner of the MiThrive community health assessment.