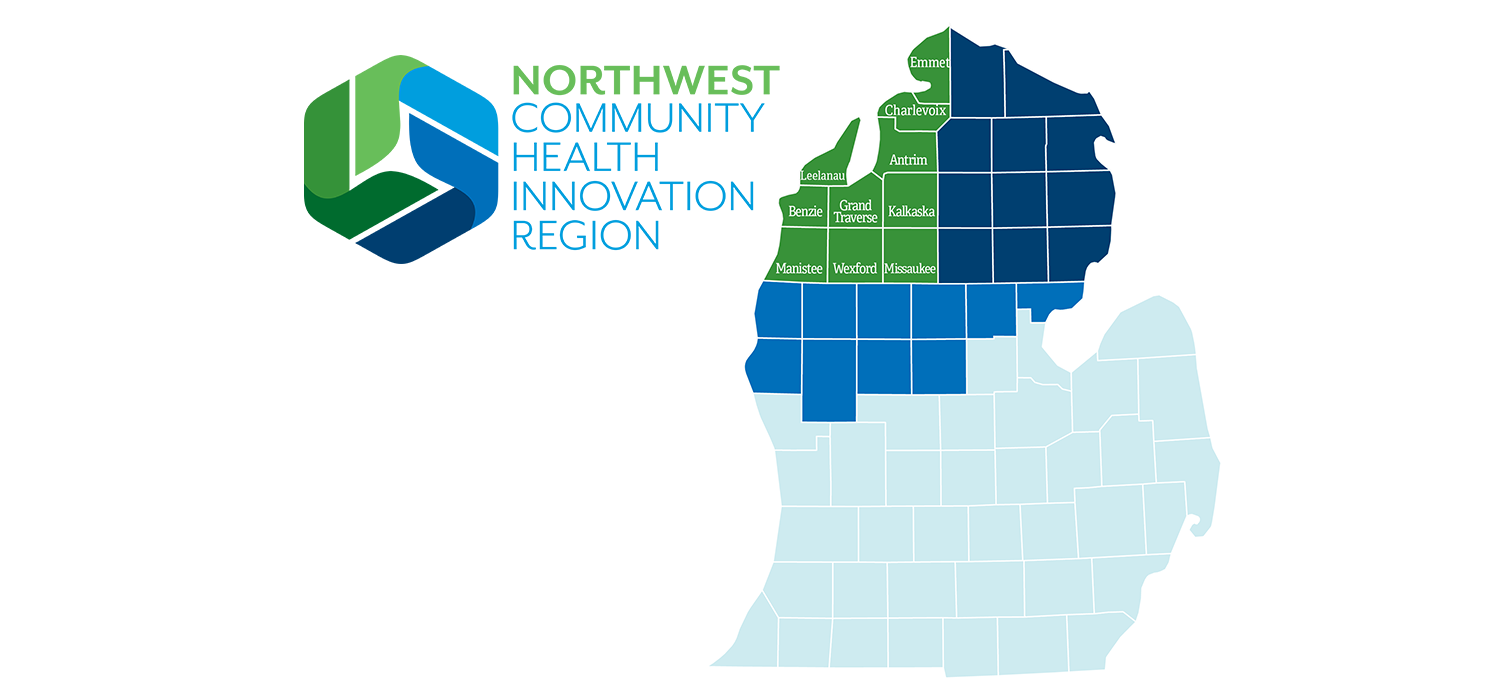 Healthy People in Equitable Communities
About the Northwest CHIR
The Northwest Community Health Innovation Region (Northwest CHIR) is a cross-sector partnership focused on improving population health, increasing health equity, and reducing unnecessary medical costs through partnerships and systems change.
We cover a ten-county geographic area including Antrim, Benzie, Charlevoix, Emmet, Grand Traverse, Kalkaska, Leelanau, Manistee, Missaukee, and Wexford counties.
Our network consists of a cross-sector Steering Committee, Clinical Linkages workgroup, MiThrive workgroup, Learning Community, residents, and community partners all working towards a shared vision of healthy people in equitable communities.
Northwest CHIR Steering Committee
| ORGANIZATION | NAME | TITLE |
| --- | --- | --- |
| | Christine Baumgardner | Resident with Lived Experience |
| Alcona Health Centers | Mary DeCaire | Administrative Projects Director |
| Area Agency on Aging | Kandi Lannen | Director, Community and Business Advancement |
| District Health Department #10 | Kevin Hughes | Health Officer |
| Goodwill Northern Michigan | Dan Buron | Executive Director |
| Grand Traverse Community Foundation | Steve Wade | Community Impact Vice President |
| Grand Traverse County Health Department | Wendy Hirschenberger | Health Officer |
| Great Start Coalition | Savanah Cool | Charlevoix, Emmet, Northern Antrim |
| McLaren Health Plan | MaryLynn Clark | Health Services Vice President |
| McLaren Northern Michigan | Laura Daniel | Community Health Manager |
| Michigan Department of Health and Human Services | Maureen Clore | Antrim, Charlevoix & Emmet Director |
| Munson Healthcare | Christi Nowak | System Director – Community Health |
| Networks Northwest | Lisa Schut | Michigan WORKS! Regional Director |
| North Country CMH Authority | Brian Babbitt | Chief Executive Officer |
| Northern Lakes CMH Authority | Joanie Blamer | Interim Chief Executive Officer |
| Northern Michigan Care Partners | Beth Oberhaus | Population Health Director |
| Northern Michigan Regional Entity | Christine Gebhard | SUD Services Administrator |
| Northwest Michigan CAA | Kerry Baughman | Executive Director |