HOW DO THINGS GET DONE?
First, we establish a Shared Vision
The NMCHIR's Shared Vision serves as a guide for bringing about change in our communities.
It provides a step by step snapshot for our diverse stakeholders to see how their work and priorities will bring about transformation.
Then, we form Action Teams
Through Action Teams,
strategies are developed, goals are set, and problems are solved!
In order to develop the best approaches to dealing with Social Determinants of Health across our 10-county area, the NMCHIR established Action Teams that focus on finding solutions to major issues facing our communities such as housing, food access, active living, social cohesion, and system coordination.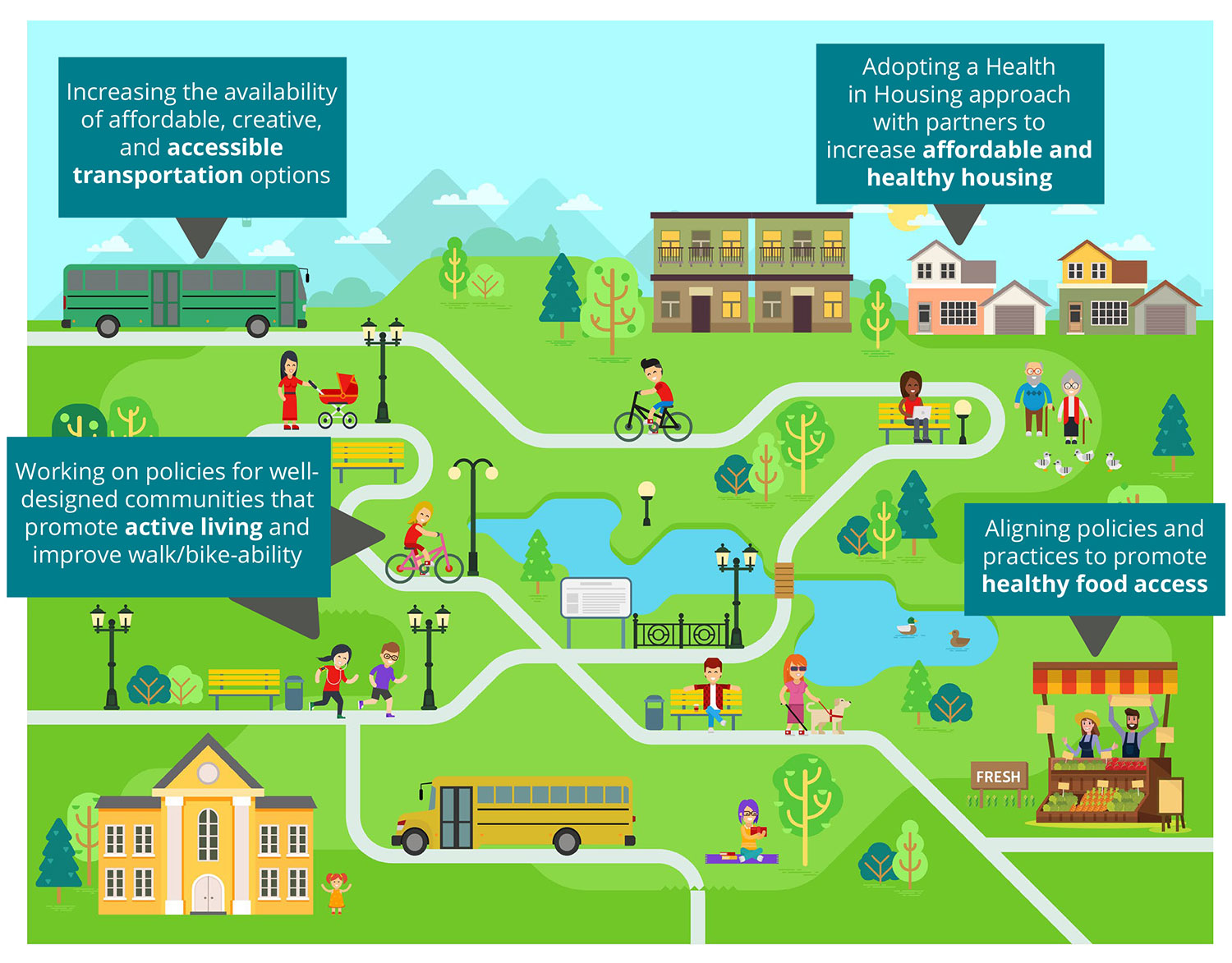 Cross-Sector Action Teams
Because every community is unique and has access to varying resources, NMCHIR's Cross-Sector Action Teams are divided into three geographic regions:
Northern Team – Emmet | Charlevoix | Antrim

Central Team – Grand Traverse | Leelanau | Benzie

Southern Team – Kalkaska | Manistee | Missaukee | Wexford
The Cross-Sector Action Teams in each region are focused on the same things – the Shared Vision and addressing the root causes related to the Social Determinants of Health.
Each cross-sector action team meets quarterly to prioritize strategies that are most affecting the lives of their fellow community members. They are making data-driven decisions from community-specific sources, such as Community Connections, and are leveraging the unique local resources and team member skill-sets that vary greatly throughout each region.
To learn more about the NMCHIR's Cross Sector Action Teams, please contact:
Erin Barrett at 231-902-8545 [email protected]
Carrie Field at 231-347-5326 [email protected].
Regional System Action Teams
The Regional Systems Action Teams are working to address Community Systems Conditions, specifically focused on the following:
Embedding resident voice in an effective, meaningful way
The Regional Systems Action Team meet bi-annually to share lessons learned, successes, and localized expertise across the entire NMCHIR region.
To learn more about the NMCHIR's Regional Systems Action Team, please contact:
Emily Llore at 231-995-6129 [email protected].
Health in All Policies Action Team
Health in All Policies (HiAP) is a collaborative approach that integrates and articulates health considerations into policymaking across sectors to improve the health of all communities and people. HiAP recognizes that health is created by a multitude of factors beyond healthcare and, in many cases, beyond the scope of traditional public health activities.
The HiAP Action Team is focused on increasing the proportion of the population at a healthy weight. Grounded in the ABLe Change Framework and as an outcome of the Community Health Improvement Plan, implementing Health in All Policies was identified as tool to address this regional community health priority. The goals for the HiAP Action Team include:
Identify regional stakeholders and champions to help promote HiAP

Educate communities and organizations about what a culture of health means and how it is applied

Advocate to promote adoption of policies that meet a HiAP definition and build a culture of health
To learn more about the NMCHIR's HiAP Action Team, please contact:
Gabriel Schneider at 517-449-6453 [email protected].
Intersection of Health and Homelessness
The Improving the Homeless Response System Initiative aims to help improve coordination between the health care and homelessness prevention systems throughout the 10-county region of the NMCHIR.
The overarching strategy is to develop a human centered service design process that will inform discharge policies. It will build a visualization of how people move through the health and behavioral systems, information that is provided at each point of service, and responsibility for hand-offs from the health and behavioral health providers to the homelessness service system. Included in this design project is the development of shared language, enhanced communications strategies, and cross training.